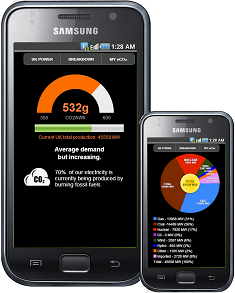 Phone Apps and Software
In today's technological society, information is available at the turn of a page - and the push of a button. In keeping with our desire to bring knowledge and information to our readers in ways than enthuse as well as inform, Greenstream are producing a series of mobile applications in conjunction with our best-selling eco guides.
We also have web based software to provide information and help people who are implementing their own eco projects. Solar power calculators to help you configure a photovoltaic solar energy system and tools to help you identify whether solar is suitable for your green energy project or not.
eCO2 Electricity Monitor
Want to know where your energy comes from?
eCO2, our first free application, will allow users to choose the most environmentally friendly time to plug in their chosen appliance, and see where their electricity is sourced from.
eCO2 is available on Android, iPhone and Windows 8 Phones, targeting readers who are conscious of their carbon footprint, of the energy they use and where that energy is coming from. Using unique software written in-house, the app is based on data from the National Grid, and will allow users to make more conscious choices concerning the energy they use.
eCO2 is based upon the software used on our sister site www.TheElectricCarGuide.net which allows electric vehicle drivers to determine the most environmentally efficient time to charge their vehicle.
Please note: eCO2 is currently only available in the United Kingdom.
Download eCO2 for free
eCO2 is now available on Google Play. It will be available on the App Store for iPhone and the Windows 8 Phone store in the next few days:
Contact
Developers! Our real-time carbon footprint data is available for use with your apps with our easy-to-use web service. Contact us for more information.
Solar Calculators
To support customers of our Solar Electricity Handbook, the world's best selling book on solar energy, we have a dedicated web site that incorporates a number of online applications.
These applications include:
Project Analysis Toolkit
Available for both on-grid and off-grid projects, the project analysis toolkit consists of a short questionnaire, questioning what you want to power. Taking into account your location and using solar insolation figures collated over a twenty-year period at NASA, the application then sends a detailed twelve page report on your installation, including an estimate of carbon savings and likely costs for your installation.
Solar Irradiance Tables
How much sunshine do you have where you live? How much of this can be converted into solar energy? The solar irradiance tables allows you to enter your location - anywhere in the world - and find out average sunlight levels for each month of the year. You can then experiment with adjusting the angle of your solar panels in order to work out the optimum position for your solar panels in order to maximise energy production.
Solar Panel Angle Calculator
What is the best angle to tilt your solar panels to in order to maximise energy production? The solar panel angle calculator takes your location and tells you the optimum angle for solar panels, broken down on a month-by-month basis. You can use this in conjunction with the Solar Irradiance Tables in order to get the best configuration for your solar energy system.
Use the Solar Calculators
Use of the solar calculators is completely free. Visit our sister site at http://www.solarelectricityhandbook.com/ and follow the links for the Online Calculators.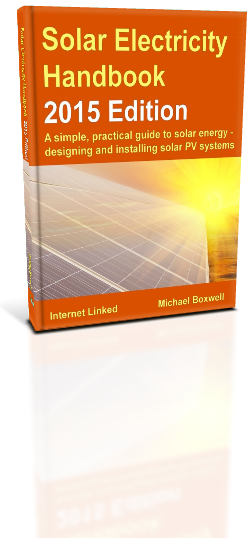 Coming Soon
We are currently developing a version of the eCO2 app with features aimed specifically at EV drivers, and a solar PV application is also scheduled for release this summer. Watch this space...